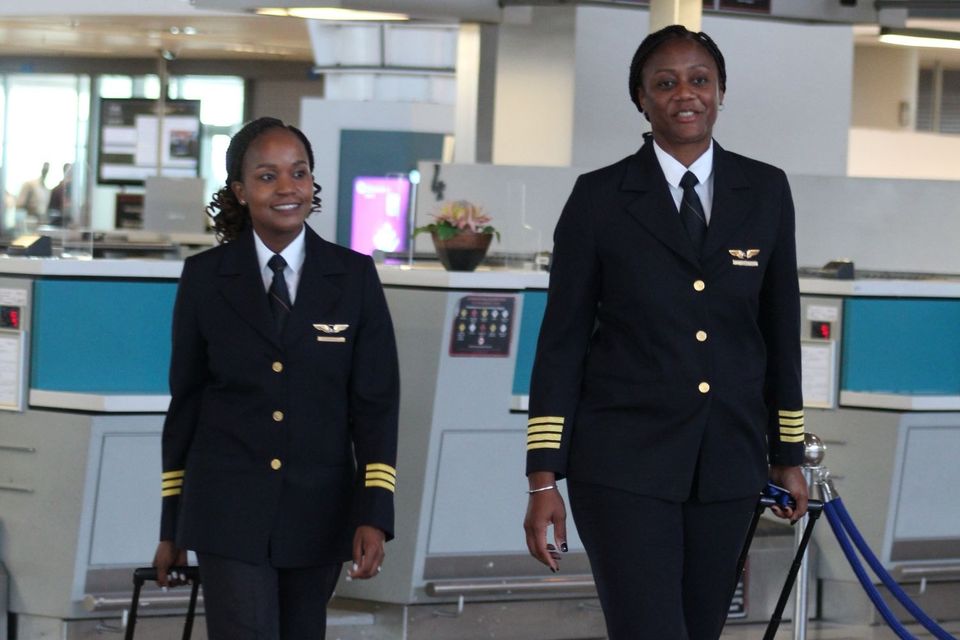 "Your dreams are valid. If this is a career you would like to follow, it is possible. Your gender and your race are not a barrier." First Officer Refilwe Moreetsi.
The recent achievement of two black African female pilots in South African Airways is generating positive responses both within and outside the rainbow nation. For some, the landmark feat by these phenomenal ladies is an enormous source of inspiration to young black ladies. To others, it is a representation of how far South Africa has come from its apartheid days.
Reason for the latter: In a society where racial segregation was once a powerful polarizing culture, South African Airways' accomplishment is an additional testament to the fact that discrimination has been reduced or eliminated entirely which, in itself, is a huge accomplishment for the entire black nation.
Speaking on the feat, SAA Executive for Human Resources, Mpho Letlape said: "South Africans can feel proud of a national carrier that is truly represented of our diversity and we celebrate that. SAA is a non-discriminatory, non-racial, equal opportunities employer with a strategic transformational role."
Genesis of the national carrier 
South African Airways was established in 1934 following the South African government's acquisition of Union Airways. South African Railways and Harbours Administration initially oversaw and controlled the airline. African countries' anti-apartheid sanctions denied the airline stopover airports during apartheid, forcing it to bypass the continent with long-range aircraft. SAA changed its name, image, and aircraft livery in 1997, as well as introducing online ticketing services. SAA was spun off from its parent company, Transnet, in 2006 to operate as an independent airline. It is still one of South Africa's largest state-owned enterprises. SAA owns Mango, a low-cost domestic carrier, and has alliances with Airlink and South African Express. It belongs to the Star Alliance.
During the 1980s, the SAA's offices were attacked as a result of international opposition to apartheid. Its offices in Harare, Zimbabwe, were severely damaged after protesters went on a rampage.
The Comprehensive Anti-Apartheid Act of the United States of America, enacted in 1986, prohibited all flights by South African-owned carriers, including SAA. Due to the Australian government's opposition to apartheid, SAA's services to Perth and Sydney were terminated in 1987. At Jan Smuts International Airport, the South African Airways Museum Society opened its doors to the public (which was renamed the OR Tambo International Airport in 2006). The organisation was founded by South African Airways employees and others with the goal of preserving South African aviation history, particularly that of SAA.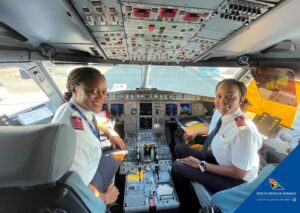 Queens of the skyl
Captain Annabel Vundla and First Officer Refilwe Moreetsi are not your average flight crew. They are historical figures. The pilots, who fly South African Airways planes, are the first black African female pilots to fly a SAA flight in the airline's 88-year history. On Tuesday, October 25, 2022, Captain Vundla and First Officer Moreetsi flew from Johannesburg to Cape Town. The entire flight crew on Flight SA346 was female.
Captain Annabel Vundla
For the second time, Captain Vundla made history. She is SAA's first female black African captain. She is also a presidential pilot and a military flight instructor.
Captain Vundla was born in 1980 and received her primary education at Kingsway Christian School before transferring to Mmabatho High School from 1991 to 1997. She joined the South African National Defence Force (SANDF) after completing her Matric. She joined the South African Air Force in January 1999 after completing military training and becoming a Presidential Pilot. For the past 23 years, she has flown the Presidential Inkwazi BBJ1 (Boeing 737-700) jet, Falcon 50, and Citation II (C550). She began her career as a pilot with South African Airways in 2010, becoming the national carrier's first black female captain.
First Officer Refilwe Moreetsi
First Officer Refilwe Moreetsi, who co-piloted the historic flight with Captain Annabel Vundla on October 25, is also an experienced pilot. From 2001 to 2005, Moreetsi attended Merensky High School before enrolling at Stellenbosch University. She graduated with honours with a Higher Certificate in Military Studies and a Bachelor of Military Science in Aeronautics/Aviation/Aerospace Science and Technology.
She became a pilot in the South African Air Force in 2006. First Officer Moreetsi completed a Pupil Pilot Course at the Central Flying School in Langebaanweg from 2008 to 2009. Despite accomplishing all of this, First Captain Moreetsi felt it was insufficient. She obtained her Private Pilot's Licence from Starlight Aviation Group in 2010. She also attended the Helicopter Flying School the same year.
Moreetsi served as Limpopo/Mpumalanga Branch Coordinator for South African Women In Aviation from 2011 to 2013. From 2014 to 2016, the pilot left the South African Air Force and worked as a First Officer for South African Express Airways.
First Officer Moreetsi returned to school in 2016 when she enrolled at the Da Vinci Institute. She earned a Bachelor of Commerce degree in Business Management with a specialisation in Aviation Management in 2020.
She has been with South African Airways since 2016, first as a Senior First Officer and then as a Deputy Fatigue Risk Management Specialist. First Officer Refilwe Moreetsi was promoted to Fatigue Risk Management Specialist in June 2022.