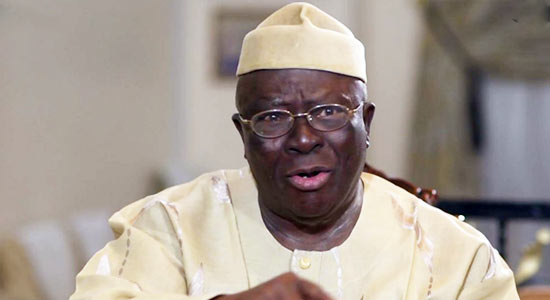 LATEST REPORT
Pa Fasoranti not in office, cannot speak for Afenifere – Chief Adebanjo
Leader of the Pan-Yoruba socio-political group, Afenifere, Chief Ayo Adebanjo, has revealed that he had warned elder statesman and a former leader of Afenifere, Pa Reuben Fasoranti not to fall for the tricks of Bola Tinubu, Presidential candidate of the All Progressives Congress, APC.
Speaking on Arise news, Tuesday, Adebanjo said the letter written by Pa Fasoranti in 2021, is proof that he had resigned as leader of the group, noting that the move made by Tinubu and his followers was to divide the socio-political group.
He said as the leader of Afenifere, he had made a comprehensive statement on the reasons the apex Yoruba group is in support of Peter Obi, Presidential candidate of the Labour Party, LP, saying: "I gave a constitutional, historical background on why we are taking that stand. We are not just taking the stand. It's a stand based on principles, and anything that makes the country united, we must do. The presidency is not a Yoruba affair, it's a national affair and Afenifere is a national party under the name of Action Group, which was founded by Asiwaju Obafemi Awolowo. It's on that philosophy and principle that we have been acting."
Speaking further, Adebanjo said the decision to endorse Obi was a unified decision which was taken by the executive arm at the general meeting of the group. He said: "I don't want to bring any personal issue here, but Olu Falae resigned from the party about three or four years ago, when he was 80 years old. When was the last time he attended the Afenifere meeting? Can you imagine people who have not been in Afenifere meeting saying that they have not been consulted? Those who are in the party have spoken, it is not those who have left, and if you look at that delegation who went to Chief Fasoranti, they are the Yoruba members of the APC: Bisi Akande, Gbenga Daniel, General Akinrinade. Every Yoruba man is not a member of Afenifere and I don't speak for the Yoruba man, I speak for Afenifere members.
He added: "I don't expect all of us to agree on something, that is the essence of democracy. We all gave our reasons for supporting Peter Obi, don't take the propaganda of the opponents, take what I am saying. I am conscious of the fact that not All Yorubas agree, even when Afenifere was founded by Chief Awolowo, not all Yorubas agreed with us. None of them can claim to love Yoruba more than I do. I challenge them to come out, or any organisation that surpasses Afenifere. Who has been protecting the interest of the Yoruba? This is not a Yoruba matter, it is not a question between the Yoruba and the Igbo, and if that were the case we are the best champions of the people, but this is an equitable thing for the unity of the country and that is what they should address. How can a Fulani man rule for eight years and and another Fulani man wants to go there, those are the issues. Let us base this election on issues, not on sentiment. They should challenge me if am wrong not bringing in sentiment."
"Pa Fasoranti has resigned on health grounds and old age. A man who is not in office cannot be speaking for Afenifere. You should ask him if he had resigned or not. I am not talking about if Tinubu is qualified or not, I am speaking on the fact that it is not the turn of his region. The Yoruba people don't believe in cheating. Those who are going to conspire against Afenifere should continue, we can face them."
It will be recalled that Pa Reuben Fasoranti, who resigned over a year ago as leader of Afenifere had, last week, declared that he remained the leader of Afenifere, saying: "I am still the leader of Afenifere. Afenifere has not endorsed Obi, we are endorsing Jagaban (Bola Ahmed Tinubu) for the presidency. As you can see, the trend, the approval and the acceptability. Adebanjo does not have the capacity to warn me not to welcome Tinubu. Can he do that successfully? What happened was that Adebanjo took a stand and I took a stand."