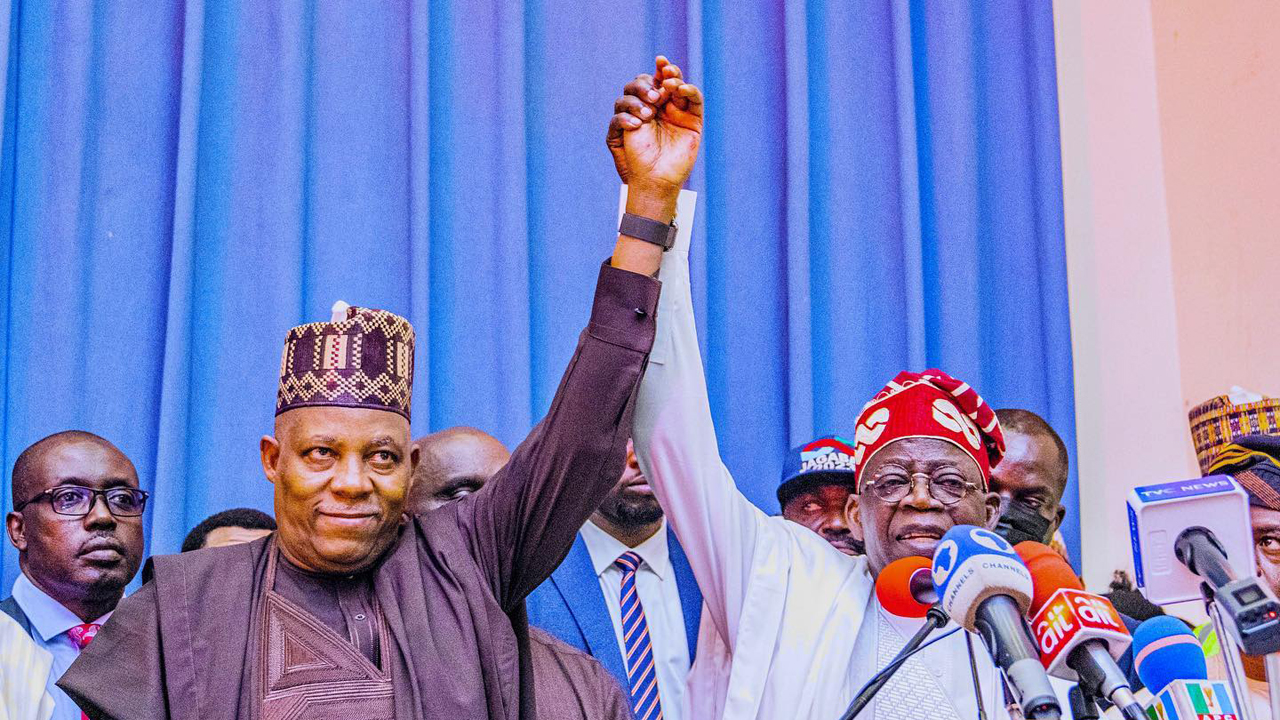 The All Progressives Congress presidential candidate, APC, Bola Tinubu, has given reason for picking Kashim Shettima, the former governor of Borno State, as his running mate for the 2023 presidential election.
At a session with the leadership of the Christian Association of Nigeria, CAN, in Abuja, Wednesday, Tinubu noted that Shettima was chosen for strategic reasons rather than religious ones.
His words: "Choosing a Christian running mate would have been easy but that is not the case.
"My choice of Shettima is borne out of the urgent need to address the challenges facing the country and Shettima possesses strong leadership abilities which he exhibited when he was the governor of Borno State. I wanted a progressive government that was why I selected Shettima.
"We have urgent challenges that do not depend on religious leanings but on the best of hands that can address it."
Tinubu, who added that the Muslim-Muslim ticket on which he has chosen to contest the 2023 election would not be a problem, said that "I seek to become Nigeria's president not on religious grounds but on the constitution. Thanks to the body for the invitation to candidates to speak on their plans for the nation.
"I believe in the need for a secular government and for us to work in the interest of the country just as I did in Lagos State. I partnered with the Christians to improve lives and foster education. I returned missionary schools to the rightful owners, most of which were Christians."
The former Governor of Lagos State also said: "The rumour that this is some plot to suppress the Christian community is untrue and unfortunate. I can no more suppress the Christians of this nation than I can suppress the Christians in my own household, my very family. You all know my wife is Christian and a pastor. My children are Christians. I can no more disown them and their choice of faith than I can disown myself. As a husband and father to Christian wife and children, hearing such allegations is hurtful. However, that individual discomfort will not deter me from the job at hand."
Those present at the meeting included Senator Kashim Shettima, his running mate; Speaker of the House of Representatives, Femi Gbajabiamila; Deputy Senate Leader, Senator Boroffice Ajayi; Senate Chief Whip, Senator Orji Kalu; and Minister of Special Duties, Senator George Akume.
CAN on Muslim-Muslim ticket
Before now, Christian Association of Nigeria, CAN, had condemned the choice of Tinubu, who picked a Muslim as his running mate.
When Tinubu opted for Shettima as his running mate, Special Assistant, Media and Communications, to the CAN President, Pastor Adebayo Oladeji, in a reaction sent through text message stated that the situation in the country "now is not suitable for a Muslim-Muslim ticket."
He noted that "it is left for Nigerians to accept or reject the Muslim/Muslim candidature of the APC."
His words: "The Christian Association of Nigeria (CAN) has stated it clearly that the situation in the country now is not suitable for a Muslim-Muslim ticket.
"It is up to Nigerians to accept or reject. Today's Nigeria is not the same as when Nigerians voted for the Abiola-Kingibe ticket which was eventually annulled. Our prayers are with Nigeria and Nigerians."
Emergence of Kashim Shettima
Tinubu, who selected Alhaji Kabir Ibrahim Masari as a placeholder ahead of the Independent National Electoral Commission, INEC, deadline for parties to submit the names of their candidates, picked Shettima as running mate on July 10, 2022.
During the announcement, Tinubu said: "Today I announce the selection of Sen. Kashim Shettima as my partner and running mate in the mission to advance and reclaim the fortunes of this great country and the hopes of its people.
"Shettima's career in politics and beyond shows that he is eminently qualified not only to deliver that all-important electoral victory but, also, to step into the shoes of the Vice-President.
"As a man with the talent, maturity, strength of character, and patriotism, he has my implicit confidence and faith.
"I am aware that many will continue to focus on a particular detail, the question of his faith.
"If we truly understood the challenges upon us as a country, we must also see the imperative of placing competence in governance above religious sentiments."