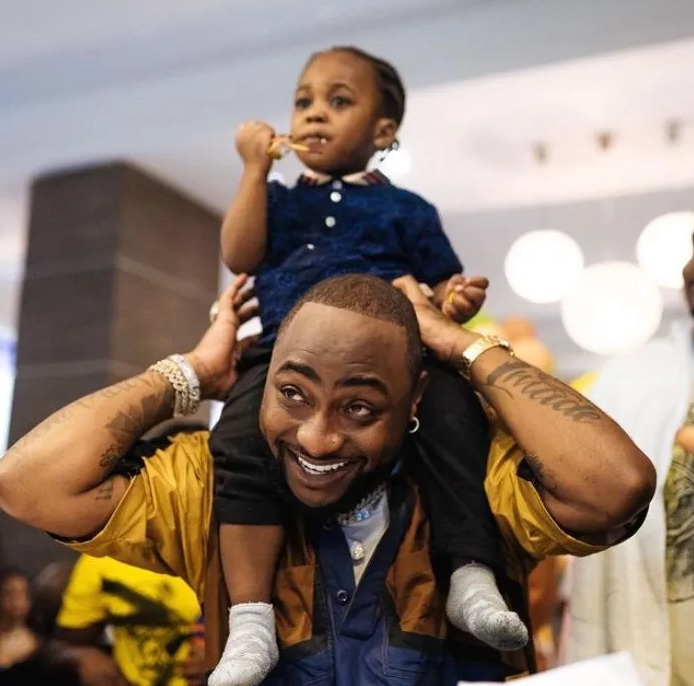 Ifeanyi Adeleke, the three years old son of Davido and his fiancee, Chioma Rowland, has died. The tragic incident happened on Monday, October 31, 2022. Ifeanyi, who was rushed to Evercare Hospital in Lekki had drowned at his father's Banana Island home. He was pronounced dead on arrival. The couple had gone to Ibadan for a family gathering yesterday and had left Ifeanyi with his custodian, who was baffled as to how he entered the pool without being noticed. Those present at the time of the incident have been arrested, while Davido was taken from Evercare Hospital, to his father's house.
Their relationship history
The couple became friends in 2013, but started dating in 2015. In a 2020 interview, Davido explained the beginning of their relationship, saying: "I have known Chioma for about seven years. We have been together for about five years. Chioma was introduced to me by Lati. Babcock University was our alma mater. We began as friends, but I grew accustomed to her, and she grew accustomed to me. She is also an excellent cook." The couple didn't go public until 2017, when Chioma appeared in Davido's Assurance music video. Davido told The Juice that the video had sparked a wave of fan hatred toward Chioma and her family, saying: "Even her parents used to get hate texts. It had a significant impact on our relationship because everything was so cool before the Assurance video. The relationship grew into a public one." They welcomed their first child, David Adedeji Ifeanyi Adeleke Jr., in October 2019.
Relationship problems
Love turned sour in mid-2020, as the duo was rumoured to have had some issues in their relationship, to the point where Chioma moved out of the artiste's house. There were also rumours of domestic violence surrounding Chioma's relationship with the singer at the time.
Chioma, on the other hand, refuted the rumour, claiming that there was no physical or verbal abuse in her home. In the same year, the pair 'unfollowed' each other on Instagram, causing a flurry of reactions. They later resumed 'following' each other, leading many to believe that the 'unfollowing' was a publicity stunt.
In April 2021, Chioma deleted Davido's pictures from her Instagram page, leaving only one of the DMW boss with their son. This came amid speculation that the couple's relationship is no longer as rosy as it once was. During this time, a photo of Davido kissing an American Instagram model, Mya Yafai, went viral.
Davido was rumoured to be in a relationship with Yafai in early 2021, and various photos of the two of them together went viral on the Internet. The model was said to have spent Christmas and New Year's with Davido in Nigeria and Ghana. The couple was also spotted holding hands at a beach house in February 2021. Since then, Davido and Chioma's relationship has been a rollercoaster ride, marred by rumours and fraught with uncertainty.
Rekindled love
The singer went to church for the first time in three years in September 2022, according to Chioma. Soso Soberekon, a music executive, responded to the news by saying: "A good woman will drag you closer to God. @thechefchi I see your hand at work, and @davido, please stay there in Jesus' name!! God is at work."
In addition, Davido and Chioma were spotted partying together at a club, and fans couldn't help but notice that their romance had been reignited.
Confirming the relationship, popular socialite Pascal Okechukwu, also known as Cubana Chief Priest, predicted that Chioma and the singer will have another child in 2023. Davido also confirmed, seemingly out of nowhere, that he will marry Chioma in 2023.
Obsession with his children
Davido is a proud father who frequently shares photos of his children with his 25 million Instagram followers. On May 10, 2022, Davido tweeted, "I'm obsessed with my children," in honour of his three children.
Earlier this year, Davido posted a video of his only son racing and predicted that Ifeanyi Adeleke would pursue a sports career. The singer then posted a birthday message for his eldest child, whom he refers to as his "Twin."
Davido's baby mamas
Davido's first baby mama is Dele Momodu's niece, Sophia Momodu. She is a Nigerian entrepreneur, brand influencer, humanitarian, and the CEO and director of The Sophia Momodu Brand. She is also the founder of the Precious Jewels Foundation, which aims to empower and encourage intellectual academic development in African women and children.
Sophia is a native of Osun State, born on June 9, 1987, and is 35 years old. It was around 2014 that she reportedly met OBO and according to his side of the story, she manoeuvred her way into his home. They had an on-again, off-again relationship, according to another account.
Davido's second baby mama is also known as Mandi and Laplubelle. She lives in Atlanta and is the mother of Hailey Veronica Adeleke. She appears to be the most private of the women who had children with Davido, but she allegedly studied political science and graduated in 2019.
Davido's third baby mama is from Imo State in Nigeria's eastern region. She is a chef, model, and brand influencer who is also the mother of David Adeleke Jr. Her celebrity stems from her relationship with Davido.
Chioma met Davido through a friend while they were both students at Babcock, and they became friends. Their relationship, on the other hand, began in 2015. To commemorate her 23rd birthday, Davido released Assurance in 2018. They later became engaged and had their first child together. Their wedding was supposed to take place in 2020, but it was postponed due to the COVID-19 pandemic.