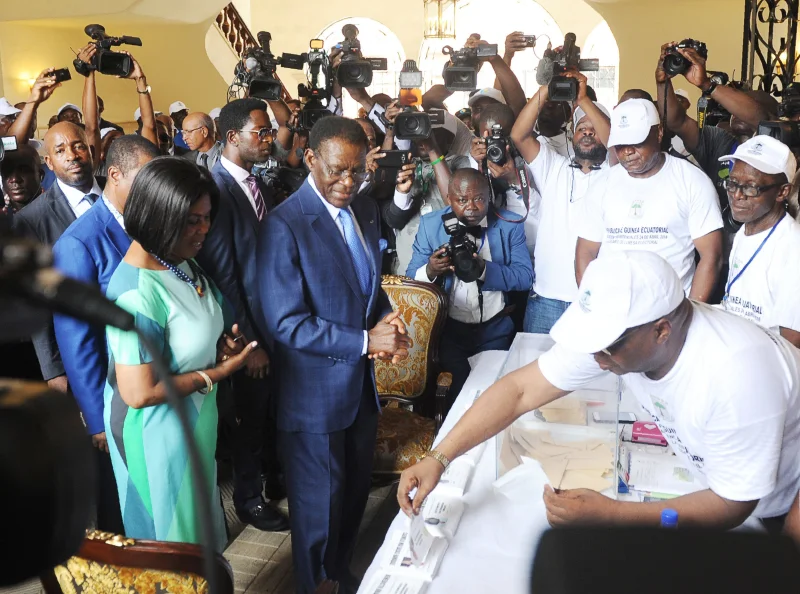 After ruling Equatorial Guinea for the past 43 years, President Teodoro Obiang Mbasogo has launched his bid for a sixth term in the 20 November election.
80-year-old Obiang seized power in 1979 from President Francisco Nguema.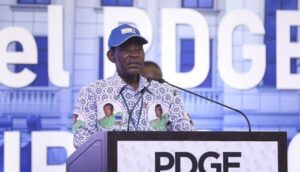 President Teodoro Obiang Mbasogo at the PDGE congress in Bata. Photo Source: AFP
Announcing his intention at a first campaign event in the northern town of Ebebiyin, the president said his dominant Democratic Party of Equatorial Guinea had chosen him to run "because I am the symbol of peace that reigns in Equatorial Guinea".
His electoral manifesto is centered on continuity and developing the Central African nation, rich in oil and gas resources but the majority of its population live below the poverty line.
Obiang is the longest-ruling head of state in the world excluding monarchs and he has never officially been re-elected with less than 93 percent of the vote.
His Democratic Party of Equatorial Guinea holds 99 of the 100 seats in the outgoing Lower House of Parliament and all of the senate seats.
Running against Obiang are Andres Esono Ondo of the Convergence for Social Democracy party and Buenaventura Monsuy Asumu, who represents the Party of the Democratic Social Coalition.
Mr Esono Ondo is running for the first time, Mr Monsuy Asumu for the third.
More than 425,000 voters are registered for the polls out of a population of around 1.4 million.
RULE OF OBIANG
Equatorial Guinea under the watch of Obiang has been marked by torture of political opponents, sham elections, and corruption, rights groups and foreign powers say.
A typical example is the detention of a former justice minister, Ruben Mangue, after he criticised the president.
According to Human Right Watch, "corruption, poverty, mismanagement of public funds, torture, arbitrary detention, and unfair trials continue to plague Equatorial Guinea under President Obiang".
Obiang however denies such charges.
His son, who is also the country's Vice-President, Teodoro Nguema Obiang Mangue, is a jet-setter with a love for parties, fast cars, and jewelry, and was convicted of embezzlement by a French court in 2020. In two separate cases, the United States and Switzerland agreed to settle with Teodoro, resulting in the confiscation of assets that would be used to benefit Equatorial Guinea's people.
US GOVERNMENT ON THE ELECTION
 US Department of State through its Spokesperson, Ned Price, has called on the "government of Equatorial Guinea to honor its international commitments and constitutional principles by supporting a free and fair vote".
This call comes as "the United States has been concerned by reports of arrests and harassment of opposition members and civil society".
A statement issued by Price therefore urged the "government to allow its citizens to freely and confidently express their preferences at the ballot box. Equatorial Guinea can cultivate a more inclusive, peaceful, and democratic society by ensuring the expression of diverse political perspectives, a free and fair voting process, and the protection of the human rights of all individuals".