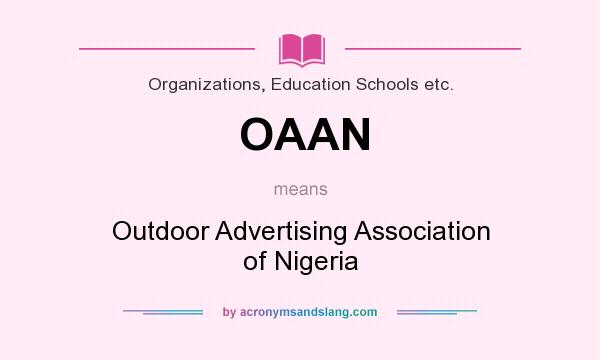 LATEST REPORT
Regulators, area boys threatening businesses – OAAN laments
A pathetic phenomenon that, long ago, creeped into Nigeria's social lexicon is the word area boys. An organised gang of street boys who deal in the extortion of business owners, commercial vehicle drivers, house owners, and passers-by.
Without being a registered member of any legal institution, they illegitimately collect, among others, rates, fees from innocent Nigerians.
Currently in the receiving end of their excesses is the Outdoor Advertising Association of Nigeria, OAAN, who has lamented its inability to stop them from invading and diminishing members' businesses.
Speaking at its 2022 OAAN Conference, Exhibition and Awards, in Lagos, themed: "OOH at the Edge," the trio of panelists, namely former Director General, Lagos Chamber of Commerce and Industry, LCCI, Dr. Musa Yusuf; former Resident Electoral Commission of the Independent National Electoral Commission, INEC, Mr. Akinyemi Orebiyi; and President, Advertisers' Association of Nigeria, ADVAN, Mr. Osamede Uwubanmwen, said the activities of the area boys on its members are evidence of a failed state that is unable to provide security for outdoor advertising practitioners.
On his part, Mr. Soni Irabor, who was the keynote speaker said: "The biggest challenger to the Out-Of-Home market is none other than the new kid on the block; social media. Although earned and owned media hold their own marketing value, paid social advertising is the surest way to bring in traffic and sales from day one. As of 2021, 75% of Gen Zers and 48% of millennials are making purchasing decisions influenced by social media ads, and in 2020, social media ad spend in the US was valued at $40.3 billion.
"Whether it's a big or small business owner, social media advertising is a must, especially if you want to stand out from the crowd, gain content views and drive more sales. However, as much as social media has a driving force, out of home advertising still has a chance at pushing your business and giving you good marketing.
"Regulations and government policy towards OOH differ significantly by market and even by city or council, which makes operating across markets difficult. This will improve as knowledge levels increase, driven by infrastructure development, better spatial planning and the implementation of global best practice in many African countries and cities. The African Free Trade Agreement, along with media ownership across markets and territories, will also play a role," he noted.
Speaking at the conference, President, OAAN, Mr. Emmanuel Ajuro, also said though the area boys had always been there, the outdoor advertising regulators have posed bigger troubles to their association. According to him "there is hope. We have heard that our business is safe, and all we need to do is to improve on it. We have also heard about the challenges with which we are faced," adding that "2023 is an election year, we believe that it will be better than this year. Our major challenge is with our regulators, I am one person who believes that we should be in partnership with our regulators. I believe strongly that they should set the standard and we will follow. However, in a situation where they only talk about the Internally Generated Revenue, IGR. That they charge us for vacant boards, that to us is very crazy, you don't pay where you don't earn."
According to him, "the argument is that they use the issue of house tenancy as an excuse to say that if a house is rented, whether you occupied it or not, you would pay for it. We said yes, but we also used a reverse to say to them that our billboards are our houses and only when people call for it that we earn. We believe that we will continue to engage with them and hopefully, with time, they will understand our position. The agencies are there because of us, and if we are sent out of business, there will be no agency. So, it has to be a partnership."
"Multiple taxation anywhere is not good. We are grateful to the Director General of the Advertising Practitioners Council of Nigeria, APCON, because he has also instituted a meeting between us and the tax authority even at the federal level and we are discussing all those ones," he said.