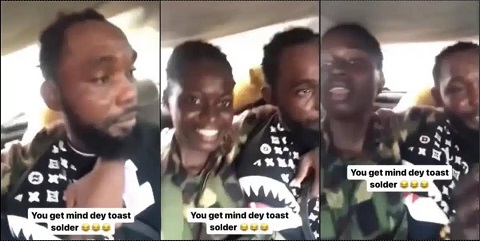 GOSSIP
Man in trouble after asking out female soldier, forced to smile (Video)
Young Nigerian man finds himself in a mess after making an advance on a female soldier whom he found attractive.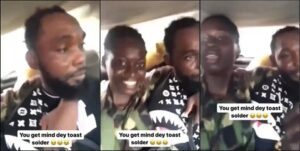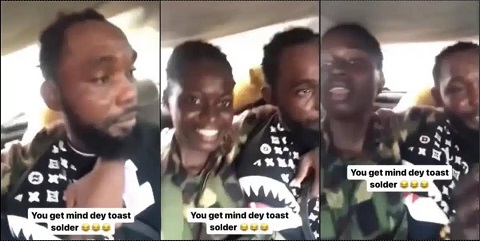 A video making the rounds on social media captured the moment a man faced the brunt of his actions at the hand of three military officers.
The lovestruck man had made an attempt to ask out a soldier who in turn punished him for disrespecting her military uniform.
He was seen in a cab with three other soldiers who slapped him multiple times when asked to smile for the camera.
Reactions trailing man who asked a soldier out
Olaara231 said: "Soldier na god..?😏😳Nonsense"
michaelezeh11 noted: "see these handsome guy if na me I go later find those soja girls go dey go collect shot"
kstarmediaolawale opined: "I swear not making sense at all, they might not see husband"
belladave6 stated: "This one nah rubbish come try this for my side you go hear wen"
Mr_lekki001 penned: "Who them be lol soldier woman nah God lol funny Nigerian any military won't do that in foreign country all this small small girl soldier sef 😏😏😏"
layinka said: "what is all this. u are soldier and so what let the guy go😏😏😏"
Watch the video below
https://www.instagram.com/reel/Ctq29GsAtN4/?utm_source=ig_embed&ig_rid=a04dd97d-708b-4d34-97dd-44313e65340a