Terrorists have abducted over forty people which included members of the Cherubim and Seraphim Church Movement in Kaduna state In fact, the unknown gunmen are said to be demanding a huge sum of N200million naira from the family of the victims This Southern Kaduna Peoples Union who confirmed this sad development, disclosed residents of the area, are under siege at the moment as bandits have taken over the metropolis.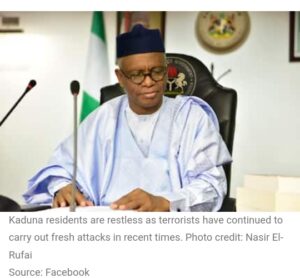 members of the Cherubim and Seraphim Church Movement, in Bayan Kasuwa Quarters of Kasuwan Magani, Kajuru Local Government Area of Kaduna state, have been abducted by terrorists.
According to a report by quicktvafrica on Monday, September 19, the union in a statement by its national president, Dr. Awemi Maisamari, disclosed that the bandits had reached out to families and were demanding N200m before the abductees could regain their freedom.
Where the incident occurred Meanwhile, SOKAPU also revealed that the incidents took place on Monday, September 12 and Tuesday, September 13, at the Kasuwan Magani area of Kajuru LGA, some few kilometres away from the metropolis.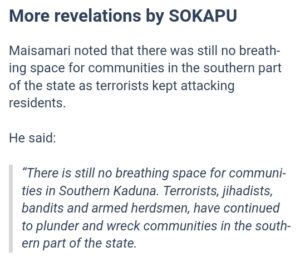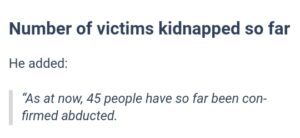 "Yesterday, however, September 18, 2022, the abductors made contact with some people in the town via phone calls and claimed that only 40 persons were held by the terrorist.