Neymar personally picked talented Nigerian footballer Zulfah Abdulazeez for the Team Global exhibition in Qatar The Nigerian hijab-wearing footballer is said to be a trader at the famous Ojota market in Lagos where she sells kola nuts She was spotted at the exhibition as the Brazilian legend also signed his autograph her shirt.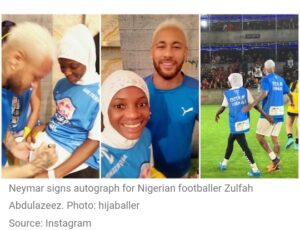 A Nigerian teenager Zulfah Abdulazeez was among seven players chosen by Brazilian superstar Neymar to represent Team Global in Qatar. The 18-year-old played alongside the Paris Saint-Germain star at the Red Bull Neymar Jr.'s 5-a-side exhibition recently. Zulfah who is endowed with so much football skills had always shared clips of her activities on social media, particularly on Instagram. Neymar signs autograph for Nigerian footballer Zulfah Abdulazeez.
she represented Super Falcons striker Rasheedat Ajibade at the Ballers Award where Asisat Oshoala emerged the winner of the Women's Player of the Year Award.
And now Zulfah has met with Neymar and she was quick to share the photos and videos on Instagram to the amazement of her followers.
He wrote: "Just have a pure heart and choose grace over being perfect and He will grant you." Neymar was seen signing his autograph on her shirt in adorable footage. Meanwhile, Zulfah's friends stormed the comment section.
One wrote: "Congratulations dear, you are going far away in your professional career. Monshall'Allah."
Another added: "Hijab is beautiful. The users are the most beautiful."
Another added: "I don't even know what to say sincerely speaking Alhaja am very happy for you Allah will continue to shine you….you will reach your mercy land.