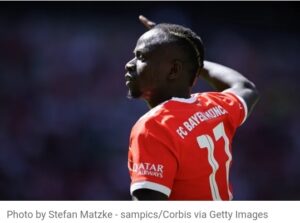 We finally got to see Sadio Mane and the new signings in action!
Initial reactions and observations
Despite the goals conceded, Bayern Munich looked much better in the second half, and it's all down to one player — Thomas Muller. Der Raumdeuter was simply feasting out there today, in a game where most of his teammates seemed to still be finding their feet. Easy MotM for him.
Sadio Mane had an excellent debut to start his Bayern career. One goal and one assist is a fine return, considering that he wasn't on the pitch at the same time as Muller.
Matthijs de Ligt had a wild debut. Scored a banger of a goal, made an error leading to a goal, got a yellow, and then went off (for some reason). What a start to his career. Ups and downs already.
The heat severely affected proceedings, it was clear that no one was really bringing their A-game in this weather (as much as you can expect your A-game in preseason).
Julian Nagelsmann still needs to sort out the defense. Despite being helpless for 90% of the game, DC United had far too many chances to score.
Full time: Bayern Munich win 6-2.
90' — GOAL! Thomas Muller makes it 6-2 from a wonderful counter!
83' — Goal. Poor defending by Bayern allows DC United to get a second.
73' — Water Break: Matthijs de Ligt didn't look okay. He was subbed off. Doesn't seem like an injury, maybe the heat is getting to him.
53' — Goal. DC United get one back, thanks to a scuffed clearance by De Ligt that hit the post.
51'— GOAL! Zirkzee makes it 5-0! Asssit from Coman but the goal was made by Muller.
47' — GOAL! Matthijs de Ligt already has a goal! Thomas Muller with the assist. What a start.
45' — The second half is underway! Bayern made a bunch of subs at HT, too bad they didn't tell us who came on.
Halftime: Bayern Munich currently lead DC United 3-0.
43' — GOAL! Gnabry makes it 3-0! Excellent assist by Sadio Mane.
11' — GOAL! Sabitzer fires in from outside the box! Another great team goal.
4' — GOAL! Penalty to Bayern courtesy of a foul on Copado. Sadio Mane steps up and fires it home. Early start to his scoring career.
Kickoff: After an unexpected ten-minute delay, we're underway!
One hour until kickoff: We have lineups! Looks like Julian Nagelsmann will field Bayern Munich in a non-standard 4-1-4-1 with the center backs being Dayot Upamecano and Tanguy Nianzou and Marcel Sabitzer as the lone midfielder. Sadio Mane and Noussair Mazraoui start their first ever game for Bayern, while youngsters like Copado and Vidovic get a shot.
We've had a roller coaster of a transfer window so far, but now it's time to get back to work. Bayern Munich start their preseason friendly campaign with a game against MLS side DC United, who are … um … er …
Yeah I don't really know anything about MLS.
Let's talk about Bayern. This will be Julian Nagelsmann's first chance to demo his new system outside of training. Without Robert Lewandowski, Bayern Munich will look very different this season, and the main question is how Sadio Mane will be integrated into the lineup. Will he play as a lone false nine up top? Or will he play next to Seger Gnabry in a dual-striker pairing?
Meanwhile, new signings such as Ryan Gravenberch and Noussair Mazraoui will be able to show what they're capable of, alongside more familiar veterans like Thomas Muller, Joshua Kimmich, Manuel Neuer, and more. This game comes too early for Matthijs de Ligt to join the team, so we'll still have to wait to see the big Dutchman in Bayern colors. Still, the prospect of finally getting some Bayern game time is irresistible. What will Nagelsmann come up with?