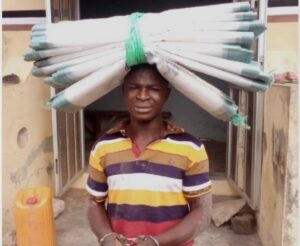 A 2-year-old man, Ayuba Enupe, has bagged three years imprisonment for housebreaking and the theft of five bundles of 50-kilogramme sacks in Kaiama Local Government Area of Kwara State.
The Nigerian Security and Civil Defence Corps (NSCDC), Kwara State Command, had arrested Ayuba for allegedly breaking into the house of one Jimoh Adigun at General Hospital road, Kaima.
He was said to have broken into the house at about 1am on Thursday, July 21, 2022, and carted away the sacks.
Operatives of the NSCDC arrested Ayuba while he was attempting to dispose of the stolen materials.
Further investigation revealed that Ayuba had earlier carted away two android phones from the residence of one Abdulrasaq in Kuokuo area, Kaiama.
Magistrate Abdullahi Ahmed Boro sentenced the convict to three years imprisonment without an option of a fine, having found him guilty of the offence.
Reacting to the development, the NSCDC Acting Commandant, Jonah Gabriel, urged Kwara State residents to be vigilant and report any suspicious movement in their domains.
Gabriel, asking for more cooperation and support towards achieving a crime-free society, assured that the Corps would not compromise on its duty to protect the lives and properties of Nigerians.